It does seem a bit old- fashioned, but I would still, in most cases, chose a simple pancake dessert over a fancy three-layered cake!
So, to show the world my love for pancakes, I came up with this healthier version of the famous French dessert from the 80's Crêpes Suzette, and since they are egg, sugar and butter-free, I named them Crêpes Dunjette! I use agave syrup and coconut oil which results in juicy vegan pancakes with rum-orange aroma, topped with melted dark chocolate. Who could resist them?!?
Hope you'll enjoy making and eating them as much as we did!
For 10-12 pancakes:
1 2/3 cup unbleached wheat or spelt flour
1 1/2 cup soy milk, unflavoured
1 cup water
1/4 teaspoon aluminum-free baking powder (optional)
1/4 teaspoon salt
Combine milk and water. Add salt and baking powder. Slowly add the flour, whisking vigorously- the batter should be thicker than the usual pancake batter with eggs.
Let sit for 15 minutes, or longer.
Heat a cats-iron pan and add a little coconut oil before each new pancake. Pour a small ladle of the batter and spread it evenly to cover the middle of the skillet. These are European style pancakes, so they are at least the size of a dessert plate, or bigger, and much thinner compared to American-style pancakes! Once the edges start getting golden brown, turn the pancake over. Continue with the rest of the batter.
For the glaze (enough for 4 pancakes):
2 blood oranges (or regular ones), organic
4 tablespoons raw agave syrup
2 tablespoons virgin coconut oil
1-2 tablespoons rum (optional)
1/4 cup dark chocolate drops
Use organic oranges. If you're not able to get them, place the conventionally grown oranges in a press, cover with warm water, add 2 teaspoon of salt and 2 teaspoons of baking soda and let sit for at least 1 hour. This will release water-soluble pesticides from the rind.
Pat them dry, grate the zest and squeeze the juice.
In a pan, heat two tablespoons of agave syrup over medium heat, until slightly caramelized. Add the remaining two tablespoons of agave, orange juice and zest and bring to a slow boil. Add coconut oil. The glaze shouldn't be too thick.
Pour it out of the pan, leaving some syrup on the bottom. Place one pancake in the pan and fold over twice to coat well in syrup. Add more syrup for the second pancake and repeat until you use up all the pancakes.
At the end, add little rum if you wish, for a richer aroma.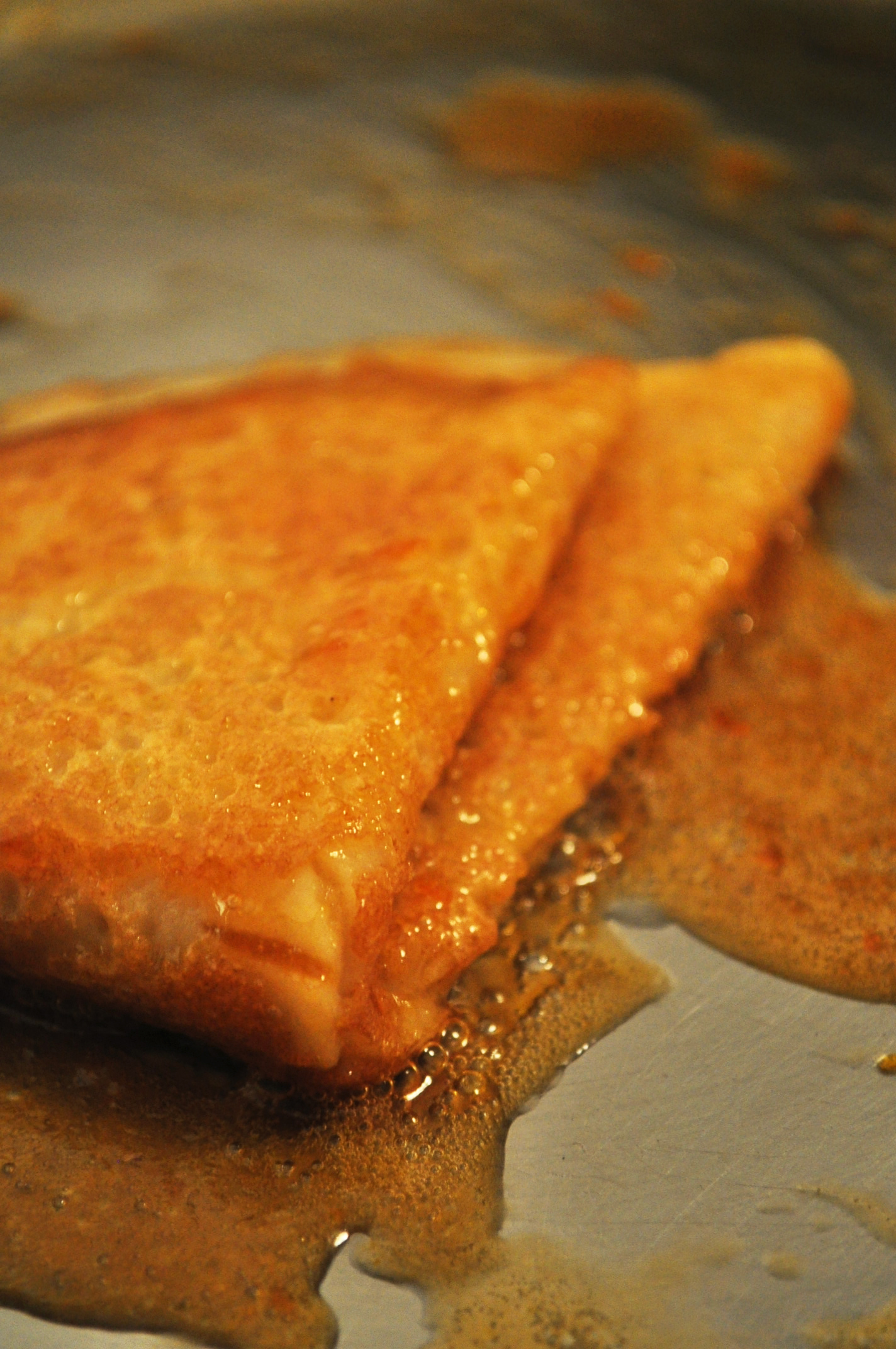 In a double-boiler, melt chocolate and add a few drops of oil. Drizzle each pancake just before serving. Happy pancake eating to all! J
This recipe is adapted from my cookbook The Vegan Pantry.