Each year when the season of Babura peppers starts in June, we enjoy them stuffed with tempeh, seitan or tofu. Traditionally, they are stuffed with minced meat, but who would ever want to use that when there are so many other beautiful ingredients to stuff peppers with!
Last year I shared a photo of my stuffed peppers on my facebook page and the feedback I got was amazing! It seems that everybody else feels about this dish as I do; it's the ultimate vegan comfort food, telling us everything will be all right if we just fill our tummy with a couple of these warm and juicy stuffed peppers!
So, my reason for sharing this recipe is quite obvious; since people around the world felt the need to comment, share or ask me how to make this dish, it was my duty to put it online. It's not the easiest recipe, but after little practice, it should run fast and smooth.
In my opinion, two peppers served with a side dish of mashed /boiled potatoes, polenta or rice are just about enough, but be sure to make a bit more since they taste wonderful the next day too!
Ingredients:
8 medium Babura peppers (or other)
For the stuffing
2 onions
2 carrots
A handful of parsley/chives/celery
6 cloves of garlic
160g tempeh/seitan/tofu
½ teaspoon Herbs de Provence
¼ teaspoon chili rings or 1 small dried chili
Olive oil and tamari, to taste
1/2 organic vegetable stock cube (optional)
1 cup cooked brown rice (I use a pressure cooker and 1rice:2water ratio)
Freshly ground pepper
For the sauce
1/3 cup homemade tomato passata
½ teaspoon sweet paprika powder
1-2 tablespoons kuzu
Bay leaf
Water, salt
Chopped parsley
Wash the peppers, cut off the tops and seed them.
First make sofritto – sauté finely chopped onions, carrots and parsley/chives/celery over low flame for some 15 minutes with a pinch of salt. Do not let the vegetables brown. Finely chop tempeh/seitan/tofu and garlic and add them to the sautéed vegetables.
Season with herbs, tamari, stock cube and mix well sautéing for another 2-3 minutes. Add cooked rice and 2 tablespoons of water and combine well. Taste and add more tamari if needed- the stuffing should be slightly saltier than if eaten on its own. Use a small spoon to stuff the peppers almost to the top (the stuffing expands a little while cooking).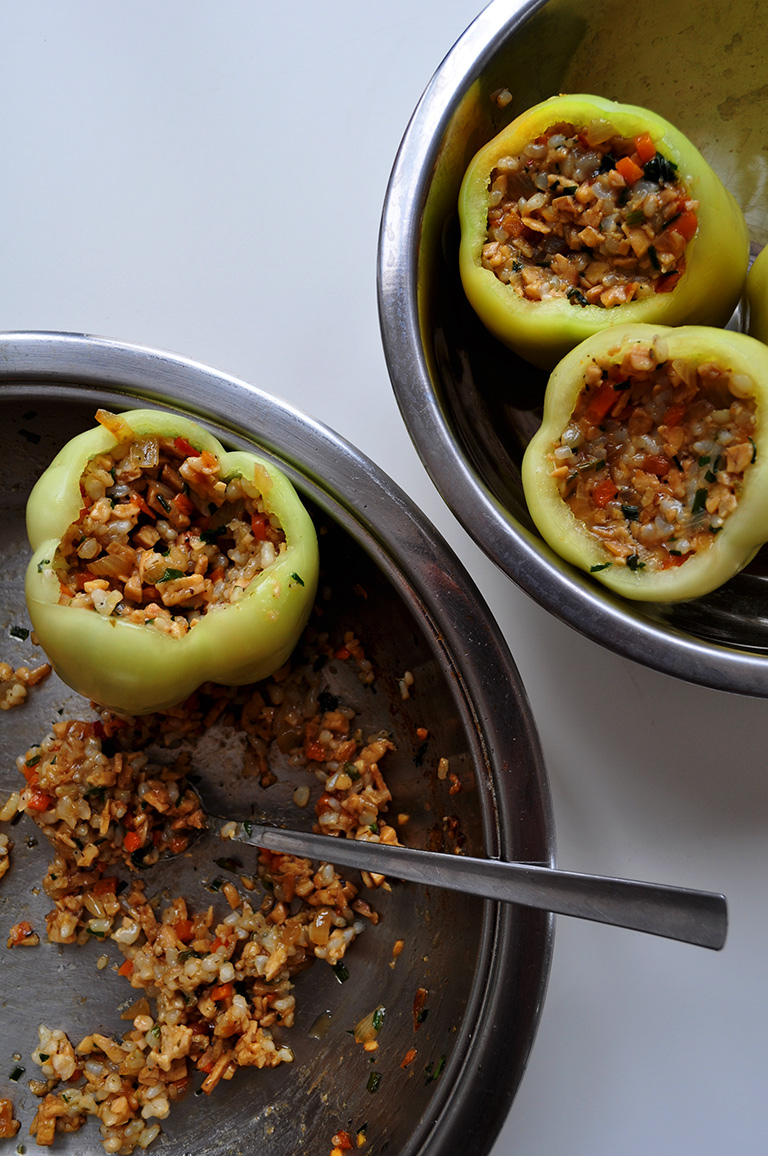 Arrange them in a pot that just fits all of the peppers standing upright- if loose they will turn over while cooking, which should not happen. Squeeze them together if you must!
Once you arranged all the peppers in a pot, add passata and enough water so that the peppers are 3/4 covered in the sauce. Bring to boil, lower the heat, cover and cook until the flesh of the peppers is very soft, 30-35 minutes.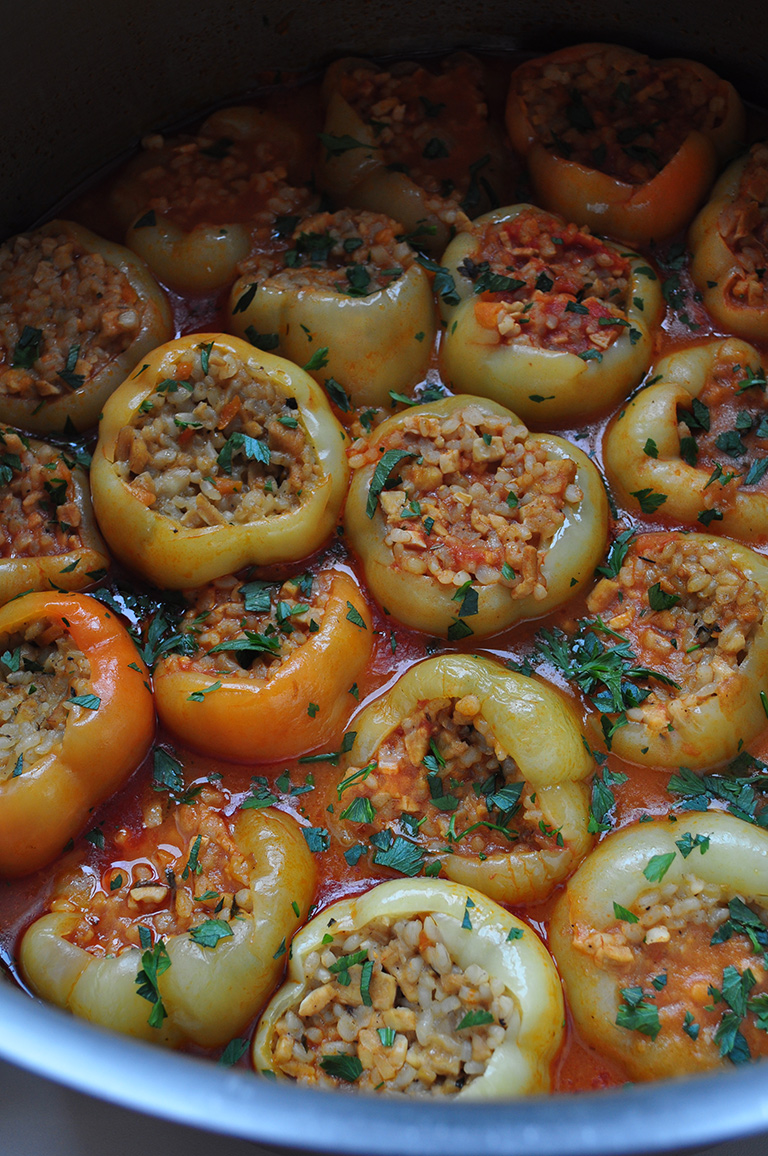 Dilute kuzu in 2 tablespoons cold water. Carefully transfer peppers into another pot and finish the sauce over medium heat by adding sweet paprika and salt to taste, and then slowly adding the diluted kuzu until you reach the desired thickness.
When serving, pour the sauce over the peppers and sprinkle with chopped parsley. My favorite side dish is mashed potatoes (no milk and butter, thank you!). However, polenta, millet or leftover rice are equally good companions to these lovely and juicy beauties. Bon appetit! J