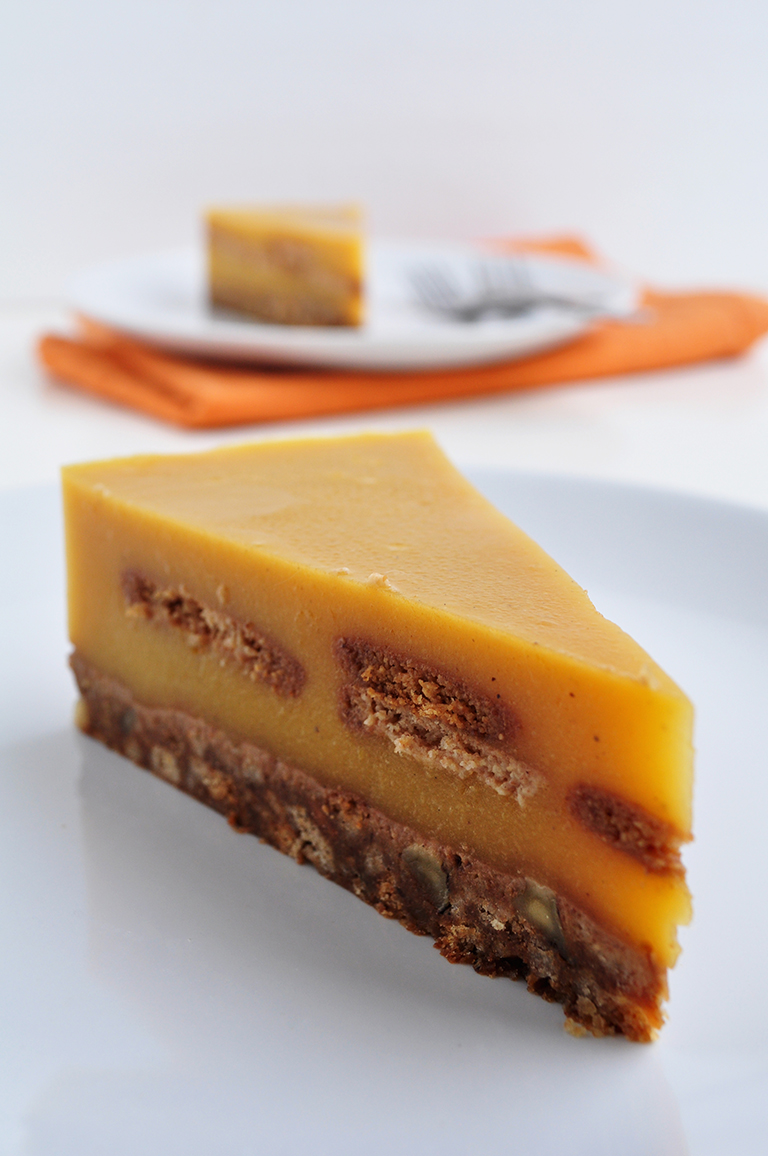 I love using pumpkin in desserts since it has such a sweet taste and gives desserts a lovely golden colour. This cake is a great combination textures: a slightly crunchy crust and a smooth, rich cream. Serve it well cooled. You can drizzle a small amount of rice syrup over each serving and add a sprinkle of chopped walnuts.
For the cake crust:
200g/ 3 cups spelt biscuits, finely ground
70g/ ½ cup toasted and chopped walnuts
½ teaspoon bourbon vanilla powder
2 tablespoons unrefined coconut oil
1 tablespoon grain coffee powder
120ml/ ½ cup oat or other plant milk
For the pumpkin cream:
500g/ 3 cups pumpkin, peeled and seeded
120ml/ ½ cup water
Pinch of salt
240ml/1 cup soy milk vanilla
390g/ 1 ½ cup soy custard vanilla
5g/ 1 ¾ teaspoons agar powder or 14g/ 3 ½ teaspoons agar flakes
150g/ ½ cup rice syrup
½ teaspoon bourbon vanilla powder
1 tablespoon cornstarch
100g whole spelt biscuits
24cm springform pan
Serves 6-8
Cover the bottom of the pan with parchment paper, attach the cake ring and cut away the access paper. Oil the bottom and the sides of the pan.
To make the crust, melt the coconut oil placing the jar in hot water. Heat the milk in a small saucepan, add 1 tablespoon of grain coffee powder and whisk. In a bigger bowl, mix together oil, warm grain coffee, 3 cups finely ground biscuits, vanilla powder and chopped walnuts to get a lightly moist dough. Transfer to the prepared springform pan and push the dough down with wet hands to get an even cake crust. Refrigerate until firm.
To make the cream, place pieces of pumpkin in a saucepan, add water and a pinch of salt, cover and bring to a boil. Lower the heat to a minimum and simmer until the pumpkin is completely soft, for about 25 minutes. Blend into a smooth puree.
In another saucepan add soy milk and agar powder/flakes and bring to a slow boil. If using powder you can immediately proceed to the next step after the milk has boiled, if using flakes simmer the milk for about 10 minutes until agar flakes have completely dissolved. Now add pumpkin puree, rice syrup, soy custard and vanilla to the milk with agar. Bring to a very slow boil whisking vigorously. Dissolve cornstarch in little cold water and add to the cream, whisking continuously. Bring to a slow boil again and remove from heat.
Take the pan with the crust out of the fridge and pour half of the pumpkin cream over it. Cover with whole biscuits. Pour a spoon of the remaining cream over each biscuit to seal it. Wait a couple of minutes then carefully add the remaining of the pumpkin cream. Let cool on room temperature for a couple of hours, then refrigerate until completely cooled and firm.
Before serving, run a thin spatula or a knife all around the pan to loosen the cake, and remove the cake ring. Slice the cake with a wet knife. Enjoy!