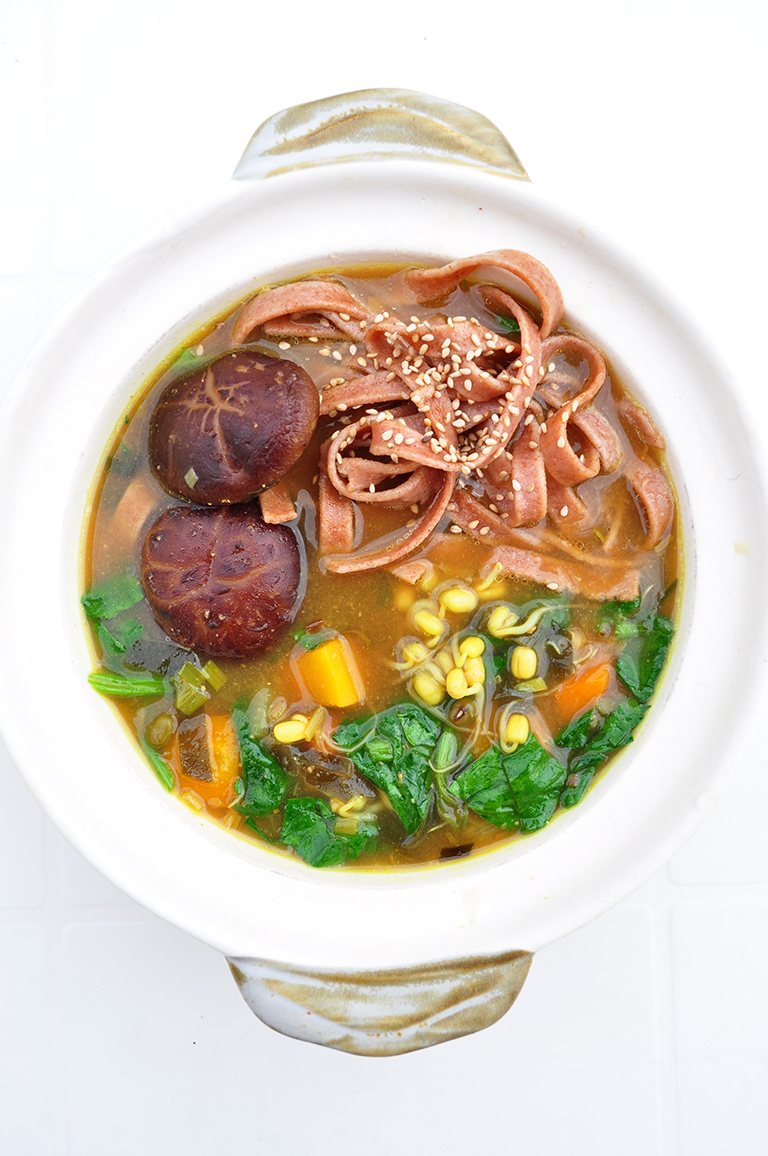 Sometimes, a big bowl of this soup is the only thing I eat for lunch, especially when I feel tired and my energy is low. It's also a great late-night dinner prtion because it nourishes but doesn't put much strain on the already sleepy digestive system! Also, dried shiitake mushrooms have a relaxing effect on the body.
100g dried soba noodles or tagliatelle
1,2L/ 5 cups of water (for pasta)
480g/ 2 cups water (added later)
1 teaspoon salt
½ tablespoon tamari (for the pasta)
½ tablespoon dark sesame oil (for the pasta)
3 dried shiitake mushrooms
1 strip wakame seaweed (optional)
2 tablespoons dark sesame oil
1 tablespoon chopped garlic
2 tablespoons chopped ginger root
100g/ 2 carrots, diced
50g/ 1 small onion, diced
120g/ 1 full cup pumpkin, peeled and cubed
¼ teaspoon turmeric powder
Freshly ground black pepper
Pinch of chilli powder
100g/ 1 ½ cup mung bean sprouts
130g spinach, chopped
2 tablespoons rice or barley miso
Serves 3
In a bigger pot, boil pasta in 5 cups of salted water until al dente. Strain, saving the cooking water. Run pasta through running water, drain, place in a bowl and sprinkle with ½ tablespoon of tamari and ½ tablespoon of oil. Mix well and set aside.
In a small bowl, cover shiitake and wakame with hot water and let soak.
Rinse the pot where pasta was cooked and add oil. Over medium heat sauté garlic and ginger shortly, then add onions, carrots, pumpkin cubes and a pinch of salt, mix well and sauté for a couple of minutes. Add turmeric, pepper and chilli and stir. Once the spices and vegetables start sizzling, add the saved cooking ater from the pasta and additional 2 cups of hot water. Cover and let boil over medium heat. In the meantime, drain shiitake and wakame and chop finely, discarding the mushroom stems.
Once the soup started to boil, add mung beans, shiitake and wakame, lower the heat and cook covered for 10 minutes. Place miso in a small bowl and pour over a ladle of hot soup. Dilute completely with the help of a small whish or fork. Remove the soup from heat and add diluted miso and chopped spinach. Taste and adjust seasoning, if needed. Stir, cover and let sit for a minute.
Divide the cooked pasta between bowls/plates and pour over the soup, making sure each portion gets a lot of veggies and sprouts. Serve hot!