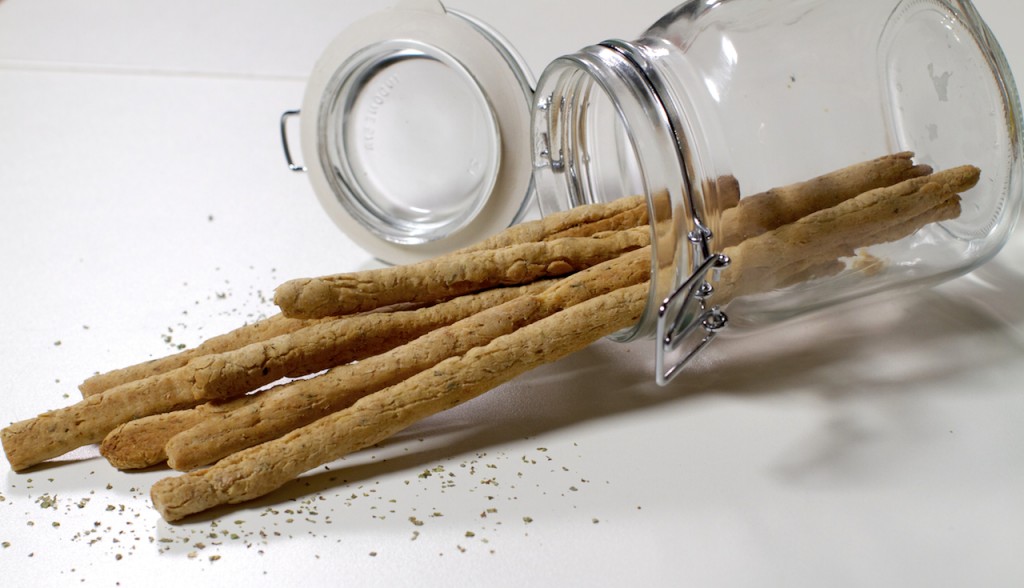 I'm in love with fermentation so my kitchen & pantry are full of bubbling starters and hissing jars! When I'm feeding my sourdough starter and need to discard some of the fermented starter to add fresh flour, instead of throwing the extra starter away (which would be a big shame and quite wasteful), I use it to make these rustic grissini! More recipes from my fermentation adventured can be found in my cookbook Fermented Foods for Vitality and Health.
2 cups whole meal flour
1 cup spelt or barley flour
1 ½ teaspoon salt
2 tablespoon olive oil
120ml/ ½ cup soy yogurt or soymilk
80ml/ 1/3 cup water
230g/ 1 full cup sourdough starter
More flour for kneading
Salt/dried herbs/crushed pepper/sesame seeds, for sprinkling
Olive oil, for brushing
Makes around 30 grissini, 28cm long
In a big bowl whisk flour and salt. Add olive oil and incorporate. Add remaining ingredients and mix with a spatula until a moist dough forms. If the bowl is big enough knead the dough inside it, adding little flour if necessary to produce a medium soft dough. Continue kneading for 3-5 minutes. Oil the bowl and the top of the dough, cover with a wet cloth and let rise for at least 2 hours in a warm place. The dough must double in size. I usually make the dough a day in advance, and place the covered bowl in the oven with only the oven light on, and let it rise overnight.
Preheat oven to 180C. Line two baking pans with parchment paper. Before rolling grissini, knead the dough once more. Take 1 tablespoon of the dough at a time and roll each breadstick on a lightly floured counter until about 28cm long. Gently transfer onto the parchment-lined baking pan and continue. Brush each stick with little olive oil and sprinkle with your choice of topping. Bake for around 30minutes in two batches, rotating them halfway through. Let cool and store in a zip-lock bag. Serve as a snack or with your favorite spread or dip!