Jars
Bormioli Rocco 3 Liter Jar
Buy it Healthy price: $13.99
The absence of lead guarantees 100-percent recyclable products
Dishwasher safe and shock resistant
Superior resistance and dishwashing guarantees long lasting product
BPA free, made in Italy
Capacity: 3 Liter 169-Ounce
Bormioli Rocco is the leading company in its sector in Italy and a great ambassador of the Made in Italy label on international markets. Respect for tradition, passion for good taste and constant research and innovation are Bormioli Rocco's milestones to create products that meet the needs of the consumers. For Bormioli Rocco the respect for the enviroment; it's a must so its entire manufacturing process is oriented towards a mission of social and enviromental responsibility.
Buy now »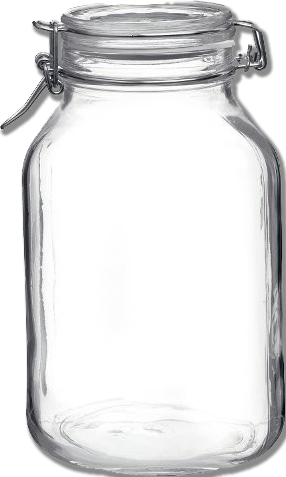 ---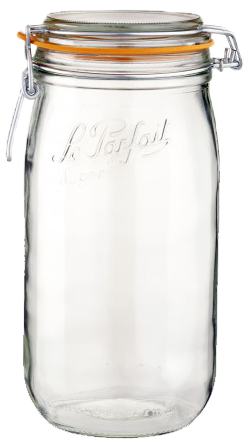 Le Parfait French Glass Canning Jar with 85mm Gasket and Lid - 2 Liter
Buy it Healthy price: $12.99
Includes (one) 2 liter Glass Jar Made in France
Le Parfait is French for the perfect and the French can perhaps be forgiven for this rather bold name.
They are heavy, made from thick glass which can handle the heat of the canning process.
Le Parfait jars are useful for keeping nuts, grains, and other things, as they keep out weevils, moisture, and other unwanted influences from the outside world.
Le Parfait jars are French jars which have been designed specifically for canning and making preserves.
Le Parfait jars are well-made and suited for a wide range of canning tasks. Many people think that they look rather nice as well, making them very popular among cooks all over the world. A classic Le Parfait jar has a lid mounted on a wire hinge, with a locking lever to fasten the lid to the top of the jar. A rubber O-ring is inserted into the lid as a gasket, creating an airtight seal inside the jar which is meant to hold until the lever has been lifted.
You can also use Le Parfait jars for freezing, although you should be careful to leave a gap at the top of the jar to allow the contents to expand. They're clear so it's easy to see the contents of the jar. They can also be used for more general kitchen storage as well.
Buy now »